Tathata Golf with Char Carson

I am certified with Tathata Golf as a Body Movement Specialist and a raving fan of their 60 Day Tathata Golf online training program. I went through the 60 day program and was so thrilled that I continued to their certification program. It's significantly improved my own game as well as made me a more effective teacher.
Have you ever hit a shot that felt effortless, smooth, sweet or just simply perfect and wondered what you did differently than some of those other shots? This 60 day program simplifies how your body moves with balance and speed in the golf swing, includes stretching exercises specific to golf, covers short game, strength & mind training and more.
The 60 day subscription never expires, so once you purchase, you can go through the program at the pace that you prefer and refer back to areas that you'd like to explore again.
Tathata golf training is different than traditional golf instruction by using martial arts disciplines to learn. It is not just "tips or fixes" for the day. What I love about it is that you learn in steps, each building upon the previous and you do not need to hit hundreds of golf balls to quickly improve and truly know how your body can move efficiently for golf. An added benefit is that you can learn in your own home from a PC or tablet which may work great with your busy schedule, when you're on the road or when the weather is not golf friendly.
I offer Chapter Follow ups and Group Training sessions at Superstition Springs Golf Club in Mesa, AZ and would be happy to help you continue your training. If you'd like to learn more, there are FREE videos on the link below and if you prefer, you can contact Char to schedule a live Preview of the program.
If you'd like to purchase the 60 Day Program, this link saves you $10 off the regular price of $180. www.TathataGolf.com/chargolf

Group Training Sessions are posted on the Events Calendar. Contact Char to schedule a Chapter Follow Up or Half Day Training session. Pricing for these programs are as follows: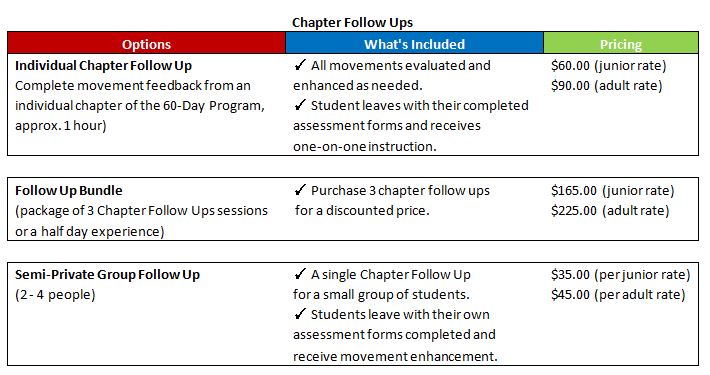 Tathata Golf Introduction & Training Pictures