Fast forward to 2021…
My journey started in 2018 when the USGA held the Inaugural US Senior Women's Open. I went as a spectator to cheer on the ladies who were competing and to see what it was all about. (see previous articles)
2020 was a year that is hard to put into words and like many things, the 2020 Senior Women's Open was canceled. The USGA brought it back for 2021!

The 3rd annual US Senior Women's Open is being held July 29th – August 1st in Fairfield, CT at Brooklawn Country Club.

With the summer date, this means that the qualifier in Arizona would be held in July, in the desert. The temperature is expected to be over 105 and the humidity rising during the monsoon season.
For some, this timing is dreadful. I was delighted! It would give me time to practice and prepare in June! Many think that teaching professionals get to play golf all the time. For me, January – May has very few opportunities to play. With junior clinics, ladies clinics, adult clinics, individual lessons, business golf 101 programs and coaching a PING junior interclub team, I'm lucky to play 4 rounds in the first 5 months of the year.
So, I developed a plan to play and train in June.

My new clubs arrived in early June: Srixon: ZX7 driver, ZX hybrids, ZX5 irons and Cleveland RTX ZIPCORE wedges. Thank you to Srixon and the Springfield Golf Resort owners (Rich, Morgan and Kelli). You are the very best!

And then the training began...
| | |
| --- | --- |
| | First on the list - a few visits to Eddie Kilthau to review my fundamentals, focus on hitting low, penetrating shots and recovery shots. And to hear his stories of competing at the highest levels. |
Second up, was to find a caddie, as my dear friend Janet had a conflict.

Thank you Richard Gaona for stepping in! Richard and I have been teaching junior and adult clinics together at Springfield for the past year and we really enjoy our teamwork. This photo is similar to the look he gave me after our first practice round. We have work to do!
Next up was playing as much as I could to improve my game and build my stamina up for the summer heat. I knew that driving range practice would not get me ready to compete, where I always seem to have fabulous lies with a bucket of do-overs, no trees, no bunkers to carry, and a very wide fairway



In the summer, I teach lessons and clinics from early morning until noon. In the afternoons, I would play in the heat, often walking, which added up to 10-11 hours a day in the heat. (I learned so much about hydration since my 2019 experience!!!)
I feel very fortunate to have had a number of training partners in June:
• Peggy Briggs, Dr. Debra Pentz, Tracy Berman, Eddie Kilthau, Morgan Kimmins and Richard Gaona
• Rianna Garland and Will Osborn (my junior students who became college golfers and help with my younger juniors in the summer)
• The amazing Wednesday Ladies League at Springfield Golf Resort and Donna Sweet always made room for me.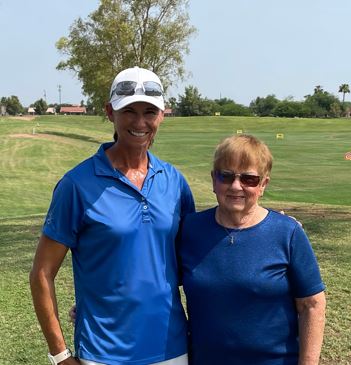 With Donna Sweet.
| | |
| --- | --- |
| | With Rianna, who will be a sophomore this year and South Dakota School of Mines and the top player on her golf team. Her encouragement and willingness to play many rounds in the heat was unbelievable! Thank you Rianna! |
Progress…
My first week of Ladies' league in early June, I scored 5 over. Five weeks later (1 week before the qualifier), I posted 3-under. Confidence began to rise. I met with Eddie last week, and never hit a ball. We just talked. He shared his experience after the first round of his Q-school many years ago. He was playing with great confidence, but did not score well in his first round. He said that he looked himself in the mirror and said "What are you afraid of?". He answered that to himself and went out to play the best 2 rounds of his life the following 2 days.

It resonated with me, especially after just finishing Jackie Burke Jr's book "It's only a game". One quote "Those who take a chance at competing learn very quickly that people do not think less of them if they fail. Regardless of what they say or how much they tease you, deep down they respect and admire you for trying." I'm counting on you to agree!

Encouragement…
There are so many friends, students and family members that I have to thank for their encouragement. You know who you are and that I appreciate you greatly!
A special callout to Samantha Evangelista who kept saying "Coach, you can do this". I've had the privilege with working with Samantha for the past year. She's 10yrs old and a champion to follow! (14+ tournament win in a year) Here is a late-night text from her a few days before the qualifier, along with her win the day after my qualifier:


So here we go…
I walk fast and play fast. Well, not as fast as my hero, Donna Sweet! (Donna manages our Ladies league's formats, tee times, results & more, handles all of the community email communication, plays golf 5 times a week at the young age of 89!)
| | |
| --- | --- |
| Richard's approach, not so fast. For those of you who live in Arizona and have ever been on a highway when our highway patrol slows traffic down by weaving back & forth across lanes in front of the general traffic to slow them down and you're wondering what the heck is going on…. This is what I thought of when Richard zigzagged in front of me to slow me down during the round. It cracked me up! | |
| | |
| --- | --- |
| | From left to right – Rianna, me, Will and Luke. My junior students who came out to cheer me on… all the while I felt I should live up to what I coached them to do! |
| | |
| --- | --- |
| Donna Lambrecht, Julie Hansen and Pat Van Hole, my friends from our ladies league | |
I imagine it was a bit like a fireworks show for them where the fireworks dazzled, then fizzled, then dazzled, then dudded out. Yay!!! Oooooh!!! Yay!!!! Ooooh!! As I worked my way to make great shots, not so great shots, good shots, OK shots and everything that you would expect in a non-boring round of golf.

I did make 2 birdies, worked extremely hard for 8 bogeys and enjoyed 8 pars. (I love PARs by the way!) I was fortunate that it was just enough that day to end up in a 3-way tie for 1st with a 78. And the exciting part is that there were 3 spots from our qualifier that earned an invite to the 3rd Annual US Senior Women's Open.

Yes! I'm going to be inside the ropes this year competing in the U.S. Senior Women's Open!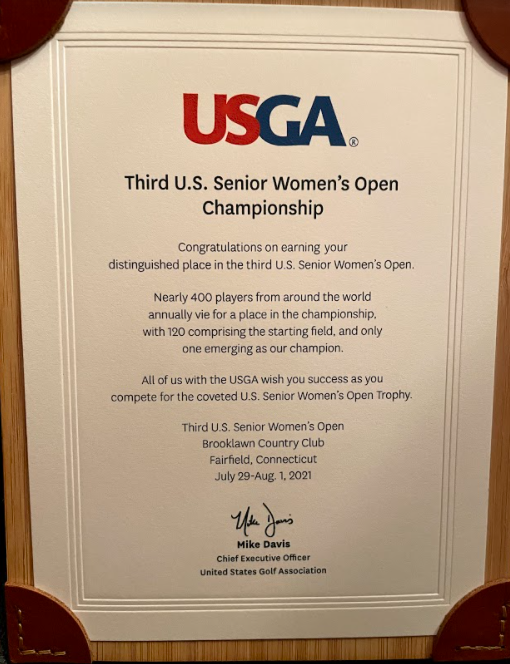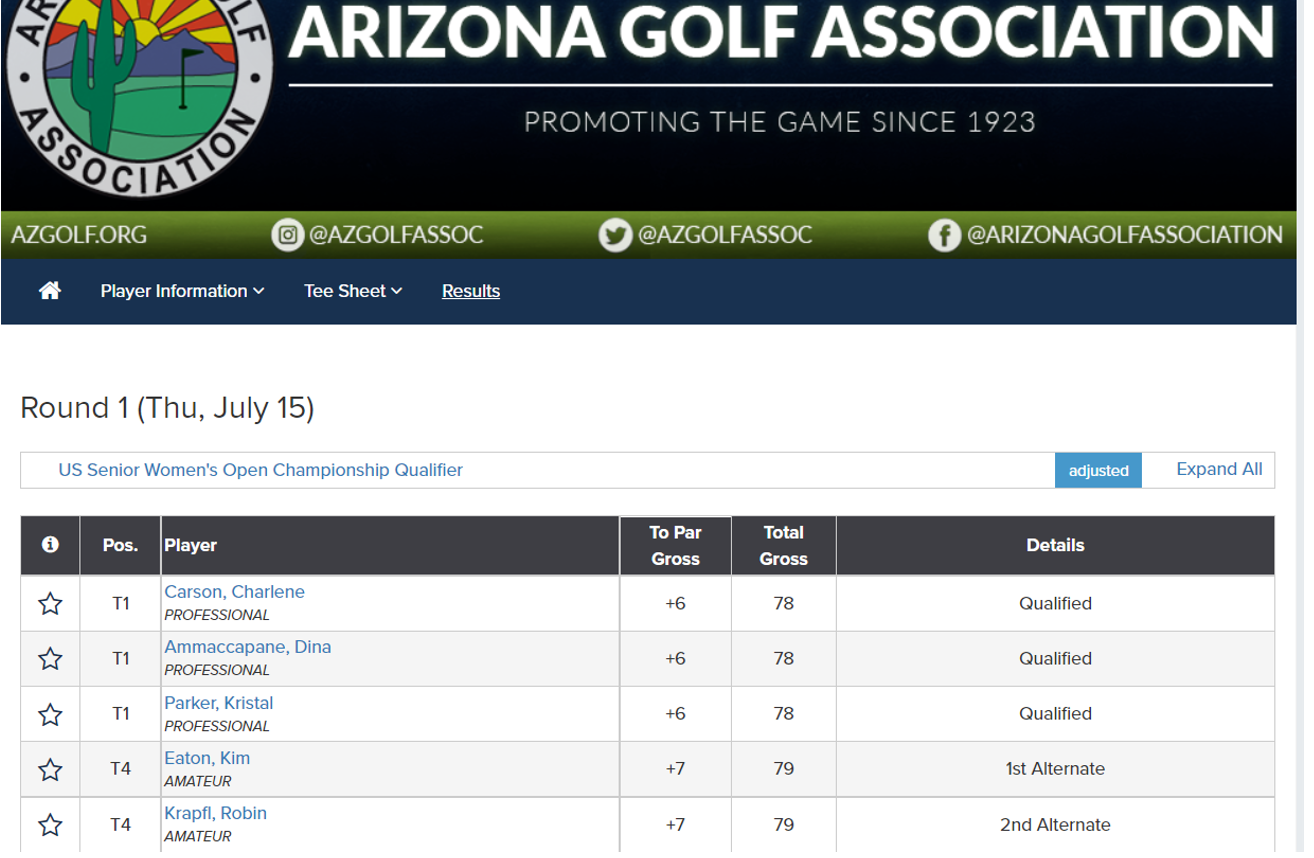 Off to make the CUT and make Springfield Golf Resort proud!