Journey to the US Senior Women's Open
Inspired by attending the USGA's - Inaugural US Senior Women's Open as a spectator in July 2018, I've started my journey to qualify to play inside the ropes in 2019. This blog is for family, friends and golfers who would like to join me in this discovery journey toward highly competitive golf.
2018 - First inaugural US Senior Women's Open - outside the ropes as a spectator in awe
2019 - qualified as a 2nd alternate - went on standby. Did not get called up to compete, but was able to see the players up close
2020 - a year that's hard to put into words
2021 - what it was like to actually play inside the ropes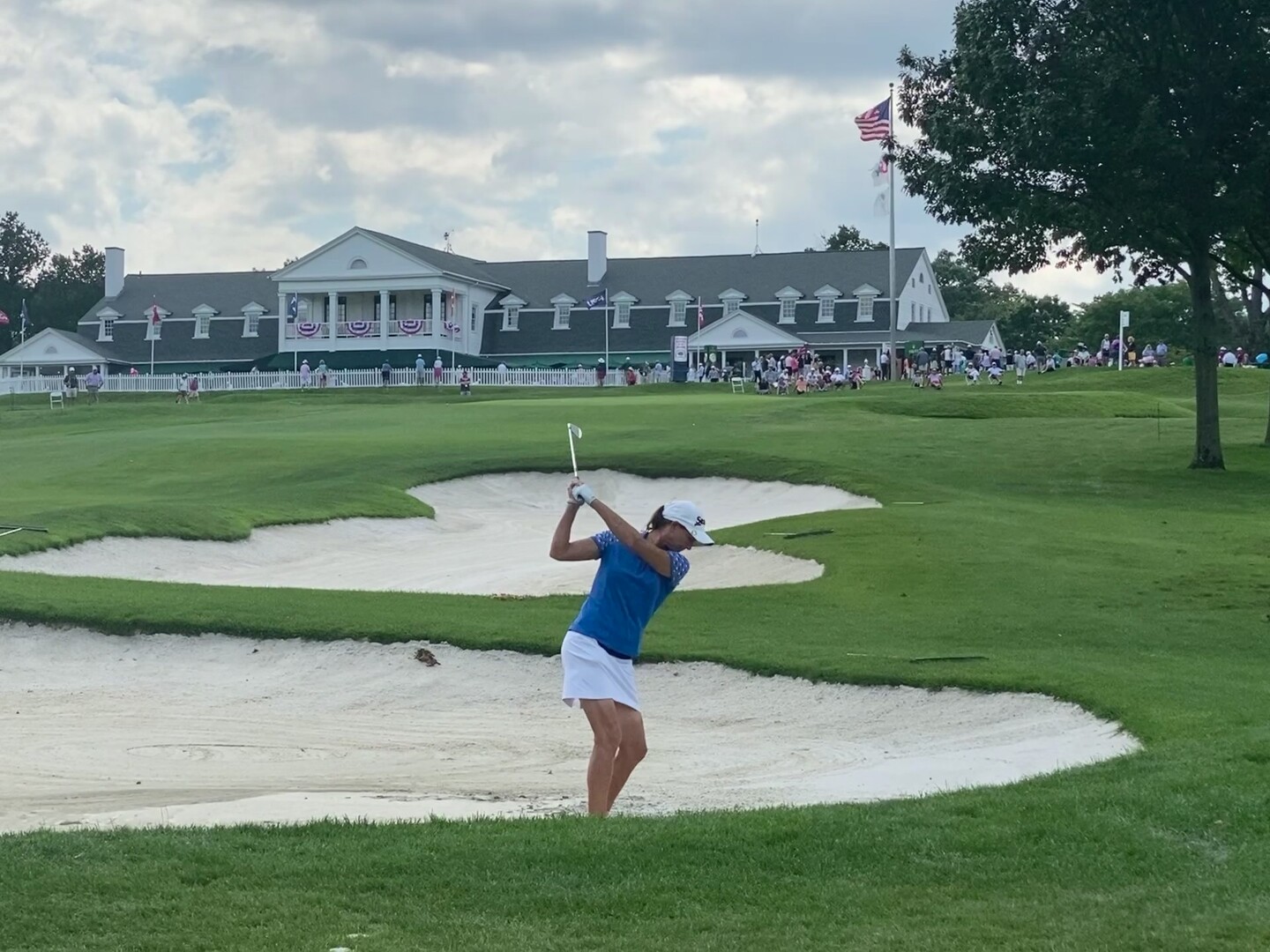 16th hole at Brooklawn Country Club. Tee shot found the bunker then 7 iron out. Chip, putt PAR!
Inside the ropes in 2021!
Wednesday, August 04, 2021
The one word to sum up this experience is WOW! The privilege to be inside the ropes competing at the 2021 U.S. Senior Women's Open was such an amazing experience. (more...)
Fast forward to 2021…So excited to be inside the ropes!
Saturday, July 17, 2021
2020 was a year that is hard to put into words and like many things, the 2020 Senior Women's Open was canceled. The USGA brought it back for 2021! (more...)
What an Experience in 2019!
Tuesday, April 30, 2019
From Start to Finish From the moment we (Janet Kieslich, my caddie & I) arrived at Briarwood Country club at 10:30am on 4/23 feeling like very green rookies, until the moment we left the property ( around 7:30pm), it was a whirlwind day full of learning, adrenaline, highs and lows, speed walking & even running, excitement, more adrenaline and more learning - 6 valuable Lessons! (more...)
Two Weeks to Go for 2019!!
Monday, April 08, 2019
My US Senior Women's Open Application has been sent and accepted. (YAY!) The Qualifying Event is set for Tuesday, April 23rd at Briarwood Country Club in Sun City, AZ. (more...)
Learning to Compete in 2018
Saturday, November 10, 2018
You can think about it, talk about it, dream about it and train for it, but there is no experience comparable to actually DOING IT. So, I mustered up the courage to do just that by entering into The Cactus Tour event at the Sundance Golf Club in Buckeye, AZ this past week. (more...)
3 Things for getting in shape for Competitive Golf
Sunday, September 09, 2018
There are endless resources online for fitness and specifically, golf fitness. How do you know which is the right one for you? I started with a TPI assessment conducted by a certified TPI expert. (more...)
What does it take to qualify for the US Senior Womens Open 2018?
Monday, August 27, 2018
Honestly, I âm not exactly sure but I'm on a journey to find out. When the USGA announced last fall that they would be hosting the Inaugural US Senior Women's Open in July 2018, I was very intrigued. So much so, that I made the trip last month to see it in person at the Chicago Golf Club in Wheaton, IL. I went with curiosity to see if I'd be totally intimidated or very inspired and actually came back feeling both 😊. (more...)