Junior Golf
Junior Clinics at Springfield Golf Resort in Chandler, AZ.
In addition to individual lessons, I offer year round developmental golf programs for juniors to learn more about golf and themselves, improve their golf skills and learn how to PLAY the game of a lifetime - golf. See the Events Schedule for dates/times/prices/details.
Saturday Morning Junior Clinics
This program is designed for juniors (ages 4 – 15) who want to improve their golf skills. Each session covers two age appropriate skills topics such as the full swing, pitch shots, bunker shots, chip shots and putting through a process of modeling. Our priorities are Safety, Fun and learning.
Saturday Morning ADULT Clinics
These clinics are open to both women & men and are held following the morning junior clinics so that juniors can continue to practice or enjoy breakfast on the patio while their parents learn. The topic varies by week based on the participant's interest. Class size is limited to the first 6 Adults to sign up.
Summer Camps - June & July
This 3 day program is designed for juniors (ages 5 - 17) to have fun learning about themselves, developing their golf skils and playing with others. Juniors are grouped by age and skill levels. Registration includes instruction, practice balls, beverages, snacks, daily challenges and more. More info Registration Form
Summer League - June & July
The Springfield Junior golf is league is an opportunity for Juniors (ages 5 – 17) to play competitive golf, in a friendly environment, on a weekly basis. This golf league will help junior golfers develop valuable life skills, character, good sportsmanship, golf skills and friendships. 3 hole, 6 hole and 9 hole divisions. Wednesday afternoons from 4:30pm - 6:30pm. Flyer More Info Registration Form
High School - Summer Program
For juniors playing high school golf or getting ready to play high school golf - this 2hour Tuesday morning class is about skills, practice and playing golf. More Info
Friday On-Course Play - Resumes in August
This is a unique program for Juniors (ages 7 -15) that provides the opportunity to get out and PLAY golf with other junior golfers AND a professional instructor. In addition to playing up to 6 holes of golf and having FUN, juniors will learn golf etiquette, sportsmanship, basic rules, playing strategies, respect for themselves, each other, the environment and more.
PING Junior Interclub 2019 Team - Competitive Play
US Kids Golf Clubs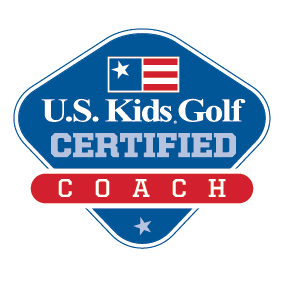 As a certified U.S. Kids Coach, I am able to provide a special offer to my students that includes both a discount of 5% off your purchase plus FREE Home Delivery.

Shop on www.uskidsgolf.com and enter my promo code: USK12138 upon checkout
Click here for the Fun Junior Photo Gallery