From Start to Finish…
From the moment we (Janet Kieslich, my caddie & I) arrived at Briarwood Country club at 10:30am on 4/23 feeling like very green rookies, until the moment we left the property ( around 7:30pm), it was a whirlwind day full of learning, adrenaline, highs and lows, speed walking – even running, excitement, more adrenaline and more learning – 6 valuable Lessons!
About my caddie…
Janet and I were high school classmates and teammates in volleyball, basketball and softball over 30 years ago. When we were 17, she asked me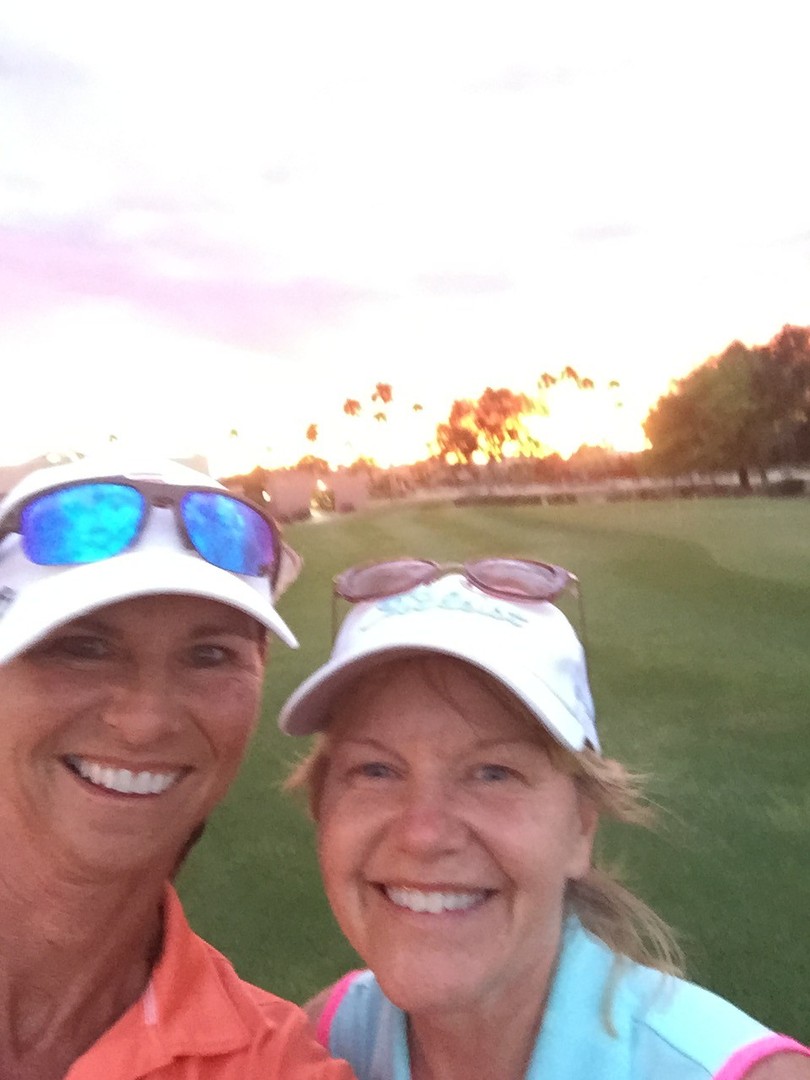 to play golf with her. (Janet grew up playing golf with her dad. I had never held a golf club before that day, but thought "How hard can it be?".) It was on that day that I told Janet that "I will never pay money again to get so mad in my life". We laughed – but it took me 8 years after that to have the patience and sense of humor to give golf another go.
When I asked Janet to be my caddie, (she had to re-arrange her patient schedule - she's a Family Nurse Practitioner in Wisconsin), she said "Yes, tell me what I need to do! I'll study up on caddying". I asked for 3 things: Clean my ball & clubs, help me figure out yardage (GPS, range finders, distance measuring devices are not allowed in USGA tournaments) and help me breathe. Her medical expertise was almost called upon on the first hole when my heart rate rose off the charts and my hand shook with tremors

.
Janet was an awesome caddie at those 3 things but also brought so much positive energy, smiles and support to the day. We were laughing just like 30+ yrs ago when we were going to state for Volleyball.
Arriving….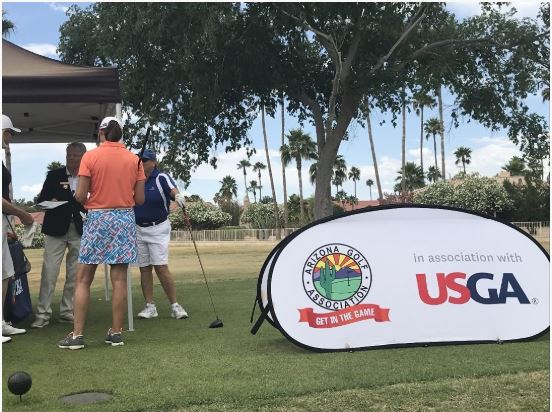 The USGA and AGA (Arizona Golf Association) volunteers & officials greeted us at the registration desk, and made us feel welcomed.
On the first tee, we were introduced to our playing partners. One was in a riding cart (approved medical exemption), the other was walking, but her caddie was riding. Janet chose to use a push cart and walk with me.
For some reason, rookies that we are, we felt we needed to hustle to keep up a fast pace. (Lesson #1 below)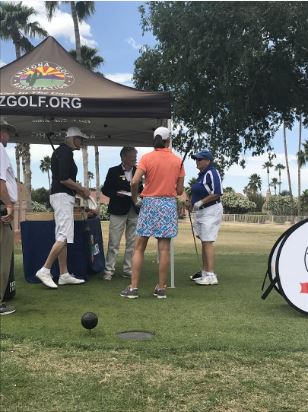 Let the game begin…
On the 1st hole, I blocked the tee shot right, just short of OB in the driving range (whew!). The approach shot was just short of the green, chip & putt for Par. OK, breathe in.
Second hole, straight drive, thin wedge over the green, hanging on the back lip of the bunker. Thought process – "please, please, please don't fall in this bunker when you swing". Chipped over & 1 putt for Par. Exhaled!
We hustled to the next hole and began to find our rhythm as for what to do and when. Some holes were a scramble, some were in regulation, a couple of birdies, 1 triple bogey due to club choice error on my part. (Lesson #5 below)
We weren't aware of time, just kept walking very quickly, figuring out yardage, making the shot and moving on. We settled into our roles.
By the 14th hole, my right foot started cramping up. Drank more Gatorade. (8 jugs of water and 2 gatorades weren't enough!). (Lesson #2 below)
Struggled through 15, worked the cramps out for 16. On the 17th green, the cramps went rampant. Both calf muscles were indented and Janet was punching them out before I had to putt. Salvaged a bogey.
We did everything we could to finish 18 walking. The approach shot hit the top edge of the bunker and buried - yes, the fascinating fried egg, managed to get out in 1, then the first 3 putt of the day. Ughh! (Lesson #3 below)
We shook hands with our competitors and then congratulated each other on the round and thoroughly enjoying the whole experience.
Fairly confident that an 81 was not enough (OK – really feeling like we blew it!), we loaded everything into the car and went in for the reception being hosted by the wonderful Briarwood members and staff.
Time check – 5pm. We finished the round in 3hrs 45min!!! Quite a pace, especially walking.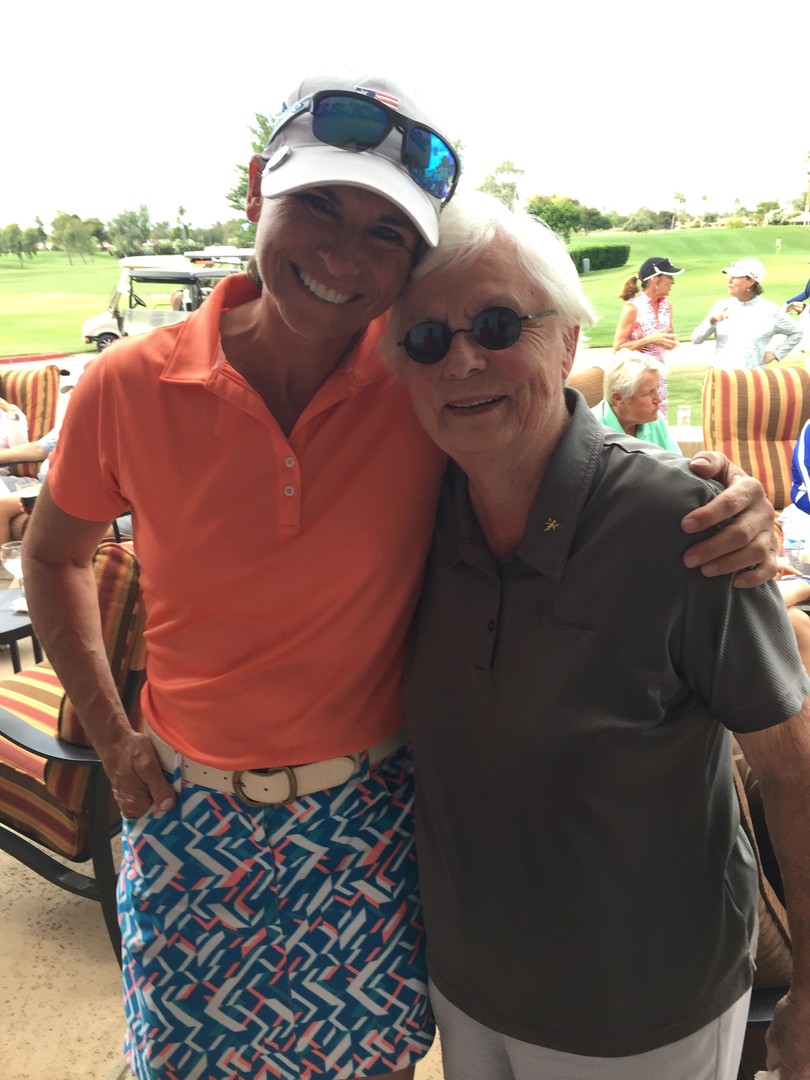 Briarwood members…
The members of Briarwood are very kind and generous. We had the privilege of visiting with Phyllis Melvey, a state champion in North Dakota 7 times over. Phyllis is now 91, and was ready to quit the game until Briarwood installed "Play it forward tees" in Phyllis' honor. There are tee markers/plates with Phyliss' name on each hole to designate a forward tee of an appropriate length for her game. Phyllis is continuing to play and recently shot 4 under her age – an 87! Wow!! She's an inspiration!
Sticking around until the end…
While we visited, we watched the updates on the live leader board. When over half the field was in, we were a bit surprised that there were not more scores under 80. With 3 groups to finish, it was getting more interesting. With 1 group to finish, if someone came in with less than 81, it was over. Karen Davies carded an 81, making it a 5-way tie for 7th place (1st alternate)! [The Top 6 finishers earned a spot in the US Senior Women's Open] (Lesson #4 below)
Nearly 2 hours after we finished, Janet shouted "Char - Let's go, we're in play-off!" We ran to the car to change shoes, load up the pull cart, grab the essentials and head to the practice area to warm up.
2 of the players who shot 81 had left immediately after their round. Another was heading to the parking lot when the playoff was announced and declared that she would not participate. This left two of us playing for 1st and 2nd alternate positions. Janet & I fist pumped

.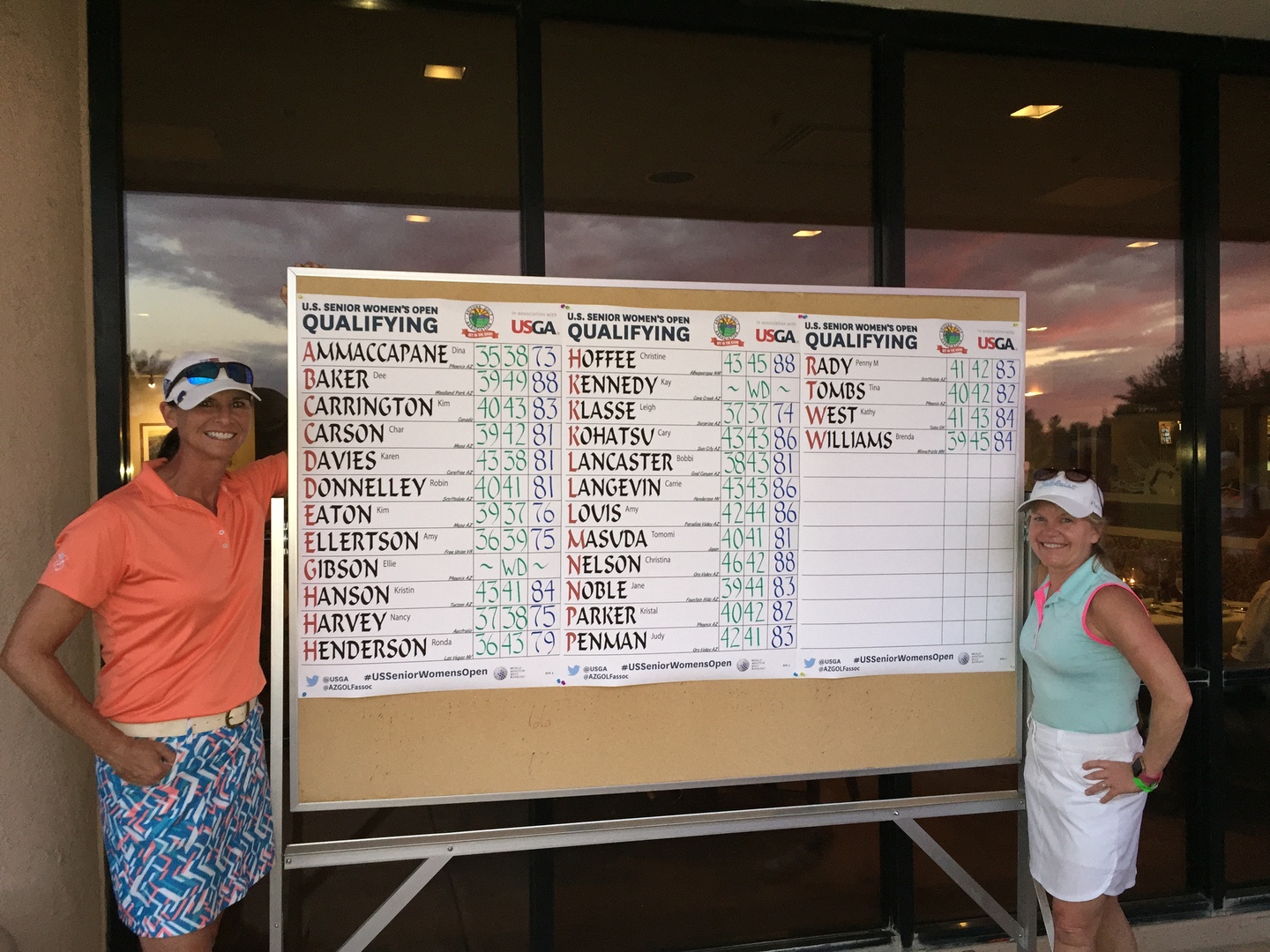 The playoff…
We had 7 minutes until tee off at 6:45pm. 1 warm-up drive and 3 putts and off we went.
1st Hole: Karen, just finishing her round, teed off first and hit the fairway. I put my tee shot in the left side bunker, 100 yds out.
Karen hits the green leaving a 6-8 foot putt. I hit out of the bunker, over the green, onto the back fringe.
I chip up within 10 feet. Karen 2 putts for Par. I sink my putt to force another playoff hole. Wow! Yay!
2nd Hole: Karen hits her drive in the middle of the fairway, mine is off right in the first cut.
Karen hits her shot on the green leaving a 2-putt. I hit my approach shot into another bunker.
My bunker shot lands within 12 feet. Karen 2 putts for Par. I miss my putt by an inch. Playoff is Over – Karen is 1st alternate. I'm 2nd alternate. Overall, this is 8th of 28.
We are exhausted and thrilled!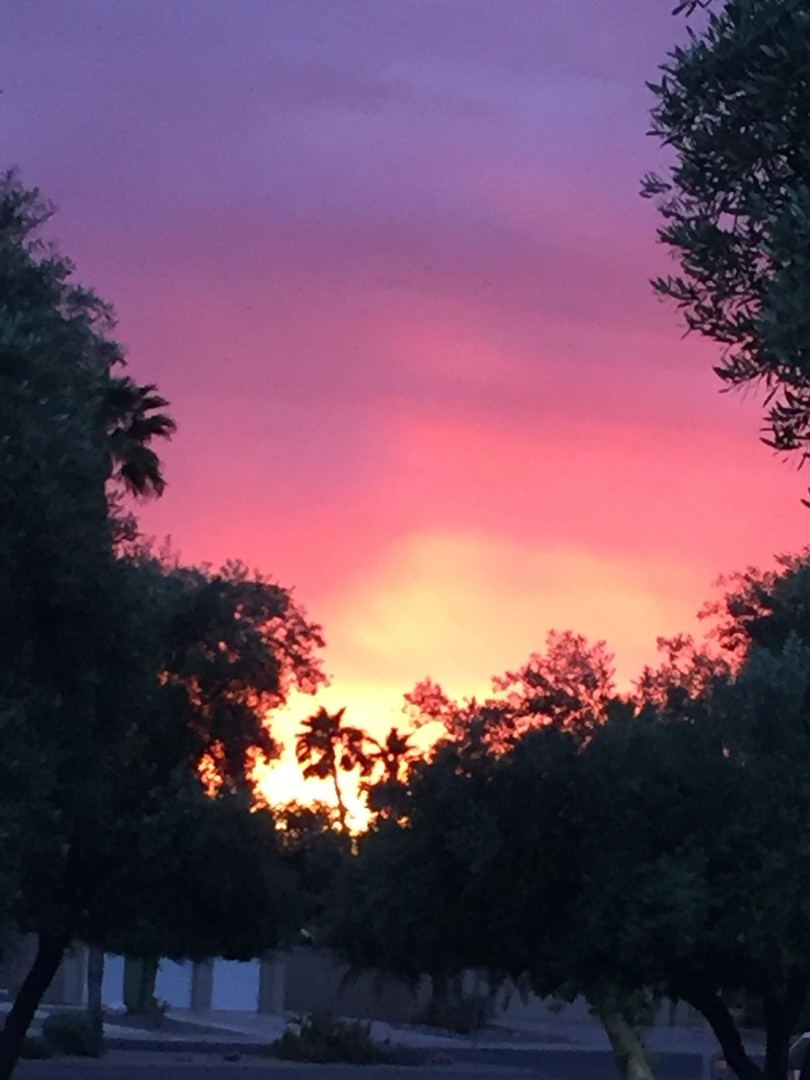 Our sunset view just prior to the playoff
What does alternate mean?
It's my understanding that there are 3 Alternate situations:
Fill a spot within your Site: Each of the 17 Qualifying sites will have a 1st and 2nd Alternate. If one of the qualifiers for your site drops out, the 1st alternate will earn a spot. If another drops out or the 1st alternate cannot participate, the 2nd alternate is in.

Fill a spot in another Site: If another Site has a spot to fill and needs another alternate, I could be called for that.

Fill a spot from the Exemption List: There are 55 players who received exemptions (each with amazing past accomplishments, such as winning a US Open) and did not need to qualify. If any of the exempt players drop out, an alternate from a Qualifying site may be called to fill that spot. The Qualifying sites will be ranked by difficulty of the course and strength of the field to determine which order alternates will be called upon. The ranking will occur sometime after 4/30, which is the last Qualifier date.
A call from the USGA can come at anytime from today until the day of the tournament on 5/16. Our plan is to go to Southern Pines, NC and be ready should the Opportunity arise. 75% of success is showing up

!
Thank you to everyone for their good luck notes, well wishes and positive energy. We felt your support throughout the day!!
****************
Lessons Learned
Lesson #1 – Be aware of your pace so that you don't have to rush. We didn't need to hustle that fast just to keep up. We were way ahead of required pace of play, but didn't know that.
Lesson #2 – I need to hydrate even more, starting the night before.
Lesson #3 – I need to get in better shape. We walked 23,465 steps that day, at a fairly quick pace. I will start walking over riding whenever it's feasible. Yes, golf is a sport!
Lesson #4 – Stay until the end. Golf is a fascinating game with unpredictable outcomes and it's never over until the last card is in.
Lesson #5 – Make better decisions on club/shot selection. This is one lesson that can only be learned by playing in a competitive event. You will not learn this lesson on the range, in a practice round or in a casual round. It's a decision under pressure. I chose 2 clubs that I will choose differently next time.
Lesson #6 – Identify & work on your weaknesses. Along with continued practice my short game for up & downs, I will be working on my drives to hit more fairways and bunker shots to get it close in case I miss.